THE AG FUND CAMPAIGN
The AG Fund is our school's yearly fundraiser. Dollars raised go directly toward critical needs for our school including instructional, building, and campus enhancements, classroom technology, campus maintenance and beautification, teacher professional development, and more.
TAX-DEDUCTIBLE DONATIONS

GIVE ONLINE – Click above to donate now!

GIVE BY MAIL – AGMS PTO | 1800 Runnymede Lane, Charlotte, NC 28211

*Make payable to AGMS PTO (Memo Line: AG Fund)*

Please note MANY EMPLOYERS WILL MATCH your donation!
CORPORATE SPONSORSHIP

Interested in a 2022-23 Corporate Sponsorship?

There are two levels of sponsorship:

$500 sponsorship includes a joint banner on the AG athletics fields!
$1500 sponsorship includes your very own banner on the AG athletics fields!

For information or other questions, contact:
AG Invest In Excellence
This year's goal is $70,000!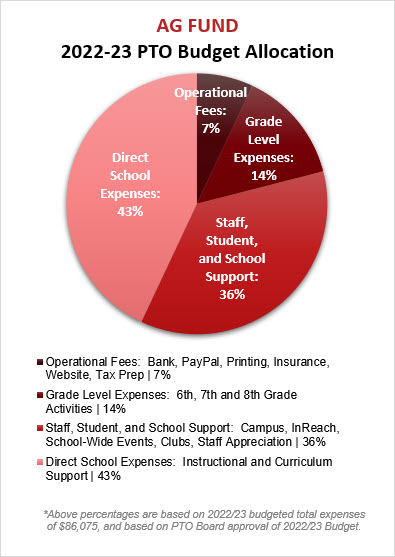 *Total AG Fund Donations, which include parent donations, Corp Sponsors & company matches, represent 78% of our budgeted operating income.